Scarfone & Geen, P.C. Highlighted in Detroit Lawyer Magazine
January 12, 2018 | Category: Articles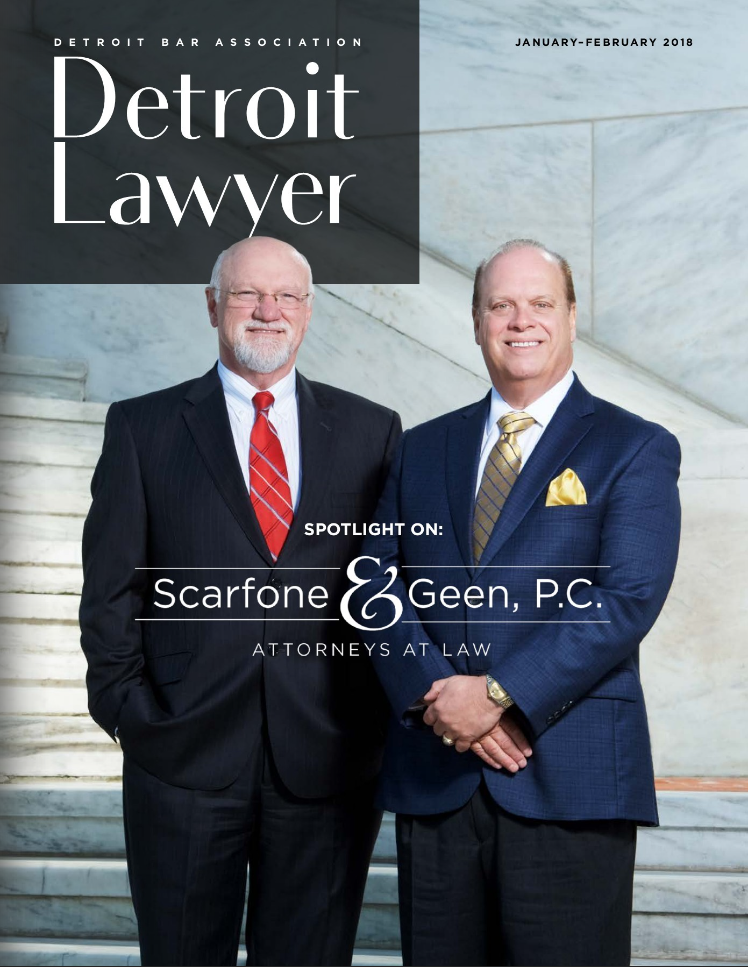 Scarfone & Geen, P.C. is proud to announce that it was recently featured in a spotlight by the Detroit Bar Association Detroit Lawyer Magazine.  The Detroit Lawyer Magazine highlighted Scarfone & Geen's successful reputation for aggressive fraud defense.  Scarfone & Geen, P.C. is a premier civil defense firm representing insurance carriers, including Fortune 500 Companies and self-insured enterprises.  The firm's focus remains on aggressively litigating excessive or fraudulent insurance claims.  While the trend of rising insurance premiums continues, Scarfone & Geen works on the ground level to curtail the pervasive fraudulent and excessive behavior in an effort to protect both insurance carriers and Michigan consumers, who ultimately bear the financial burden of these claims.  With 17 lawyers aggressively defending insurance carriers and other civil defense matters, Scarfone & Geen, P.C. is at the pinnacle of the civil defense arena.
To view the featured spotlight on Scarfone and Geen, P.C., please click the following link.
Detroit Lawyer Magazine - Spotlight on Scarfone & Geen, P.C.